08/04/2020 Welcome to Fellview Fibres - despite the restrictions in place in the UK due to the Coronavirus, I am still working on fibres at home, and I can now dispatch parcels 2 or 3 times per week. As soon as the restrictions are relaxed, normal daily dispatches will recommence.
All of the fibres are made to order - which at present takes approximately 1 -2 weeks .
If you have any questions, custom requests, or would like an update on your order, please email me at carol@fellviewfibres.co.uk
Stay stafe, and Happy Spinning!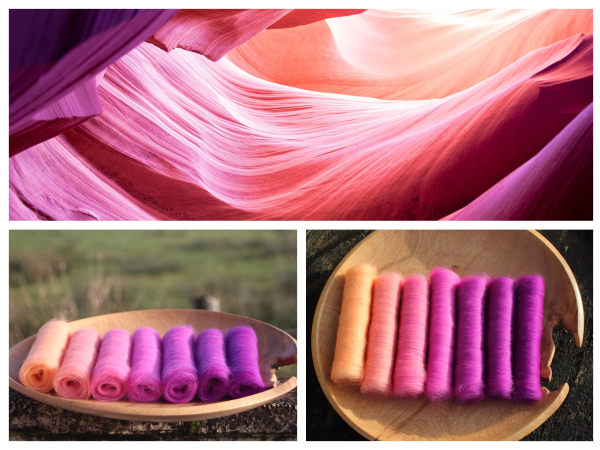 Antelope Canyon Gradient Batt Set - 100g
Only 1 left in stock
£16.00
I adore this colourway, and was asked if it could be made inot a single gradient.
This gradient of 7 mini batts is identical in colours to the Antelope Canyon rolags. The rolags are deisgned to make a self striping yarn, this gradient batt set is designed to produce a single gradient moving from peach to violet. If you were to treat yourself to both the rolags AND the gradient, you could make a wonderful fractal yarn.
You will receive 7 mini batts made from 100% 21 micron merino, which together will add up to 100g.
The fibres in this blend will felt, if you do not wish them to, hand wash in cool water.