Welcome to Fellview Fibres. Most orders will be dispatched in approximately 2 weeks. Larger orders may take a little longer. All items are made to order, so if you would like some small changes (like addition of silk or sparkle) please message me. If an item is sold out in the shop, again, please message me, as often I will have the fibres to make more of the colourway.
If you have any questions, custom requests, or would like an update on your order, please email me at carol@fellviewfibres.co.uk
Stay Safe and Happy Spinning!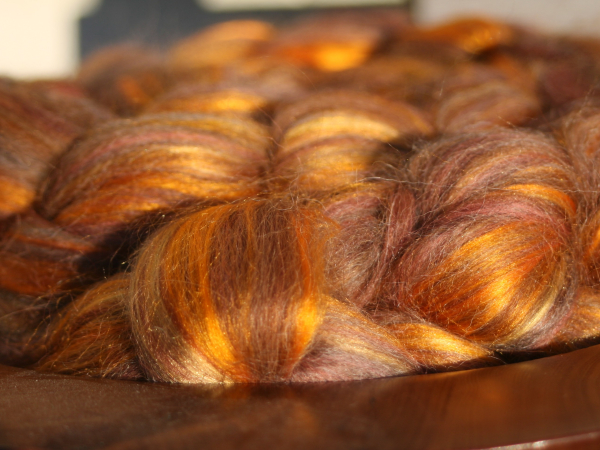 Autumn Hues Luxury Blend - 100g
Where I was working had the most incredible autumn colours this year. Ranging from yellow gold to reds and browns. Sadly the final photograph does not really do the place justice, as I kept forgetting my camera, and the day I remembered it, the rain arrived, and lots of the leaves had fallen due to wind :-(
However, this roving is much closer to my memory of walking into the prep room, to be bathed in a warm golden glow caused by the sun streaming through the golden yellow leaves of the sycamore outside.
The roving is a beautifully soft blend of natural brown baby llama blended with bamboo, mulberry silk and corridale. This blend seems to just glow from within, and it is so soft (some has already decamped into my stash.... ups!)
Most of the fibes in this blend will felt. The roving is light and airy, so will be straightforward to spin.