September 2019 : Due to volume of orders, expected dispatch time is now approximately 2 weeks. I will try to dispatch orders earlier if possible. A message will be sent as soon as an item has been dispatched.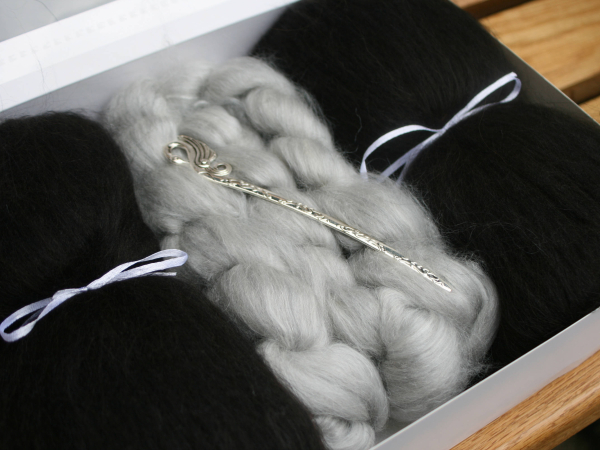 Black Swan Themed Box - 200g minimum
Only 2 left in stock
£33.00
Swans are majestic, elegant birds whose presence demands respect from onlookers. Their plumage looks silken soft, with a gentle shimmer that shows the water resistance that it holds. I wanted to produce fibre blends that enable the production of elegant yarns that would embody the elegance and majesty of these birds, and so I have developed some luxury blends based on them and their young.
This box contains a minimum of 200g of luxury fibres.
100g of Black Swan Batts. These are made of either 70% baby llama or 70% baby alpaca (the choice is yours) blended with approximately 30% tussah silk with a touch of obsidian Angelina for a touch of sparkle to indicate the droplets of water, but without detracting from the elegance of the blend.
100g of Cygnet Luxury Blend - 50% merino, 25% cashmere and 25% tussah silk
www.etsy.com/uk/listing/547201049/cygnet-luxury-blend-merino-cashmere?ref=shop_home_active_4
These will be packaged up into a box with a lovely little silver metal bookmark in the shape of a swan.