September 2019 : Due to volume of orders, expected dispatch time is now approximately 2 weeks. I will try to dispatch orders earlier if possible. A message will be sent as soon as an item has been dispatched.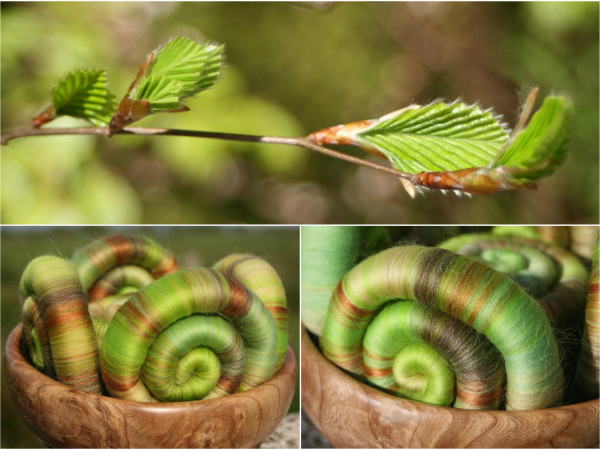 Bursting Buds Rolags / Punis - 100g
Only 1 left in stock
£16.00
One late morning in May, I was wandering through the woods with my dogs. The sun was shining through the leaves and I was happily taking photographs of all the wonderful shades of green around me.
I saw these beech leaves unrolling from their buds, and loved how the photograph came out. The freshness of their colour, and the unexpected bronze colouration of the breaking buds.
These rolags are made from beautifully soft 21 micron merino fibres, blended with the best quality moorit Shetland fibres I can source. Finally for the buds, I have added a tussah silk in a bronze shade.
You will receive a minimum of 100g of rolags in the Bursting Buds colourway. The merino and Shetland fibres in this blend will felt. If you do not want them to, hand wash in cool water.