04/06/2020 - Welcome to Fellview Fibres. The shop will be shut for a few days as the order books are full. I am working as quickly as possible through orders - as soon as I can be confident that new orders can be made up within the normal 2 weeks preparation time, I will re-open the shop for new orders.
If you have any questions, custom requests, or would like an update on your order, please email me at carol@fellviewfibres.co.uk
Stay Safe and Happy Spinning!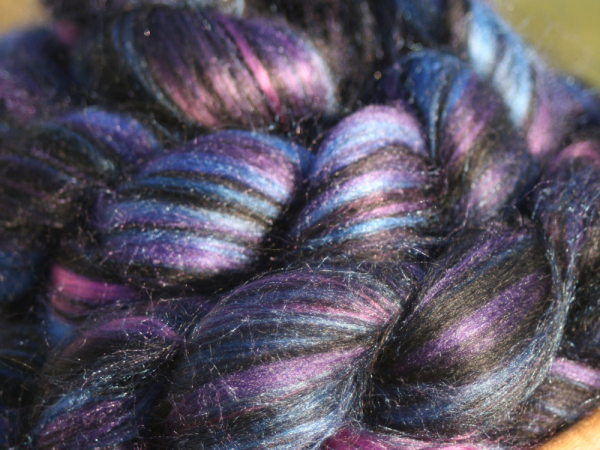 DARK QUEEN - Phat Fiber January 2017 - Faries Theme - 100g
I took my inspiration for this luxury blend from the folk tradition of the Fairy Queen – or Queen of Fairyland.
The Fairy Queen is not seen as the traditional Victorian image of a fairy, with wings and a gossamer dress. The Fairy Queen is a sinister character, who has the ability to manipulate mere mortals with her glamour. She also likes human babies and will kidnap them without compunction.
I therefore see this character as a beautiful queen, wearing dark robes, which shimmer with hints of refracted colour.
This luxury blend mirrors this dark. aluring character. It is made from 40% baby llama blended with tussah and mulberry silk (together forming 60% of the blend) in shades of blue and purple. This blend will spin up into a soft, warm yarn with amazing shine and drape.
You will recieve 100g of Dark Queen luxury blend.