September 2019 : Due to volume of orders, expected dispatch time is now approximately 2 weeks. I will try to dispatch orders earlier if possible. A message will be sent as soon as an item has been dispatched.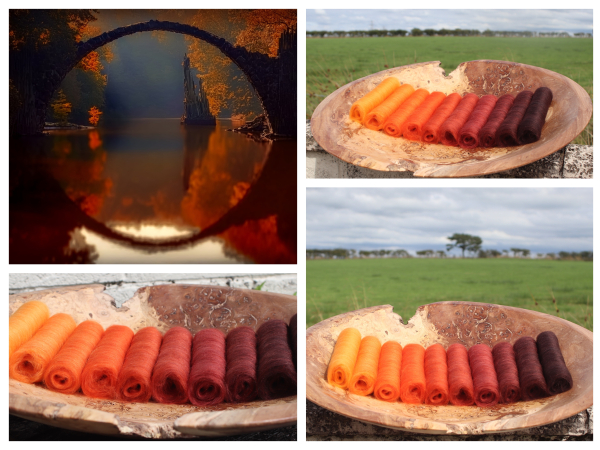 Dark Reflections
Only 1 left in stock
£23.00
I saw this wonderful photograph of autumnal reflections. I knew that I had to turn it into a gradient!
The gradient is made from 2/3 wonderfully soft 21 micron merino carefully blended with 1/3 tussah silk. This high proportion of silk will make the blend more straightforward to spin, due to the longer staple length of the silk. The silk also lends the blend, and so any resulting yarm, a fantastic shimmer and drape.
You will receive 10 mini batts which total 150g of fibre. This should be sufficient to make a large shawl - or would make a wonderful contrast yarn in a larger project.
The merino in this blend will felt. If you do not want it to, hand wash in cool water.