September 2019 : Due to volume of orders, expected dispatch time is now approximately 2 weeks. I will try to dispatch orders earlier if possible. A message will be sent as soon as an item has been dispatched.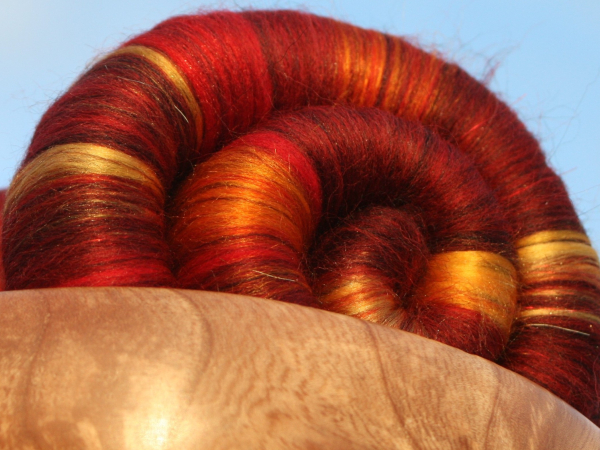 Fafnir's Heart Rolags - 100g
I produced this colourway for the Phat Fiber box for January 2016, where the theme was Dragons and Fantasy. I adore these rolags as they are rich and warm, and when the sun shines on them, they seem to glow from within.
The story of Fafnir is that he was the dragon that was slain by Sigurd in the Saga of the Volsungs.
Fafnir, like most dragons, was guarding a huge treasure. However, when Fafnir was slain by Sigurd, his heart was removed and roasted.
It was Regin the blacksmith that asked Sigurd to roast the beasts heart, and then test it to see if it was cooked. Sigurd did this, and when a little blood from the heart touched his lips he could understand the language of the birds.
This was treasure indeed, because the birds warned Sigurd that Regin was about to kill him….
You will receive 100g of rolags in this colourway.
These rolags contain
Black baby llama
Merino in rich shades of red
Tussah silk in raven and scarlet
Mulberry (bombyx ) silk in gold
Bamboo in yellow gold
Angelina in gold and ruby.