September 2019 : Due to volume of orders, expected dispatch time is now approximately 2 weeks. I will try to dispatch orders earlier if possible. A message will be sent as soon as an item has been dispatched.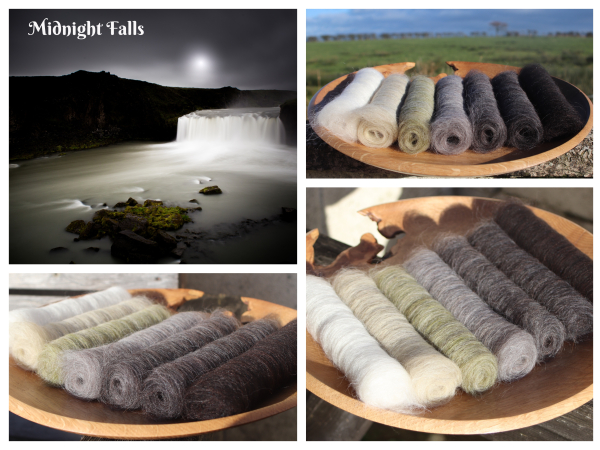 Midnight Falls Gradient Batt Set - 100g
Only 2 left in stock
£17.00
This gradient is the latest to be released from the Gradient Club. The colourway is based on a night-time photograph of Goðafoss in Iceland.
I made this gradient from naturally coloured Masham(40%) and Baby Alpaca (40%) blended with coloured silks (20%). All of these fibres have relatively long staple lengths Masham at 15-38cm and Baby Alpaca at approx. 8cm. The fibres may be relatively bulky, but they all feel silken, and will have a fantastic drape.
Instead of choosing to complete a monochrome gradient, I decided to pick out the grey/green tones in the water and mossy rocks.
You will receive 7 mini batts which together will total just over 100g. Most of the fibres in this blend will felt. If you do not wish themto, hand wash in cool water.