Welcome to Fellview Fibres. Most orders will be dispatched in approximately 2 weeks. Larger orders may take a little longer. All items are made to order, so if you would like some small changes (like addition of silk or sparkle) please message me. If an item is sold out in the shop, again, please message me, as often I will have the fibres to make more of the colourway.
If you have any questions, custom requests, or would like an update on your order, please email me at carol@fellviewfibres.co.uk
Stay Safe and Happy Spinning!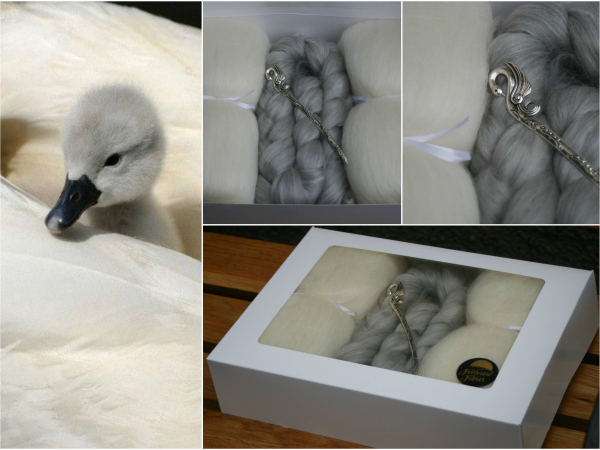 Mute Swan Themed Box - minimum 200g
Swans are majestic, elegant birds whose presence demands respect from onlookers. Their plumage looks silken soft, with a gentle shimmer that shows the water resistance that it holds. I wanted to produce fibre blends that enable the production of elegant yarns that would embody the elegance and majesty of these birds, and so I have developed some luxury blends based on them and their young.
This box contains a minimum of 200g of luxury fibres.
100g of Swan Song Batts (BFL, Baby alpaca, Tussah silk, Pearl and Trilobal)
100g of Cygnet Luxury Blend
These will be packaged up into a box with a lovely little silver metal bookmark in the shape of a swan.