04/06/2020 - Welcome to Fellview Fibres. The shop will be shut for a few days as the order books are full. I am working as quickly as possible through orders - as soon as I can be confident that new orders can be made up within the normal 2 weeks preparation time, I will re-open the shop for new orders.
If you have any questions, custom requests, or would like an update on your order, please email me at carol@fellviewfibres.co.uk
Stay Safe and Happy Spinning!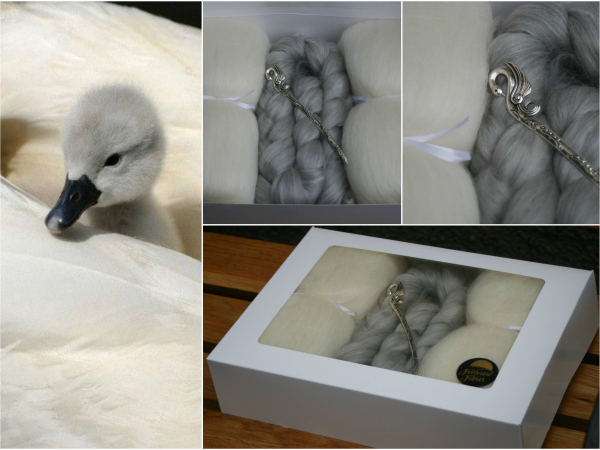 Mute Swan Themed Box - minimum 200g
Only 1 left in stock
£35.00
Swans are majestic, elegant birds whose presence demands respect from onlookers. Their plumage looks silken soft, with a gentle shimmer that shows the water resistance that it holds. I wanted to produce fibre blends that enable the production of elegant yarns that would embody the elegance and majesty of these birds, and so I have developed some luxury blends based on them and their young.
This box contains a minimum of 200g of luxury fibres.
100g of Swan Song Batts (BFL, Baby alpaca, Tussah silk, Pearl and Trilobal)
100g of Cygnet Luxury Blend
These will be packaged up into a box with a lovely little silver metal bookmark in the shape of a swan.