September 2019 : Due to volume of orders, expected dispatch time is now approximately 2 weeks. I will try to dispatch orders earlier if possible. A message will be sent as soon as an item has been dispatched.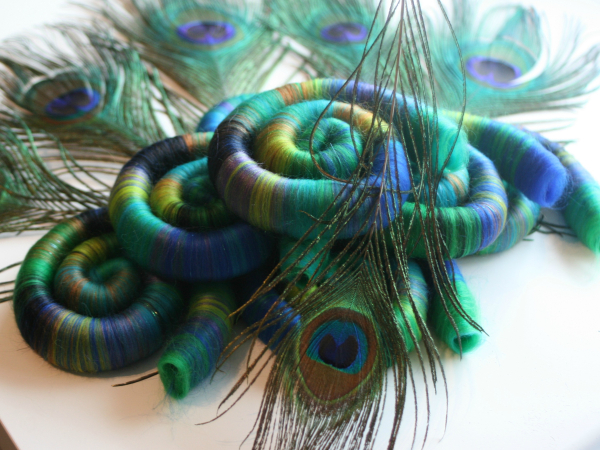 A Peacock's Tale Rolags - 100g
I adore the colours of the Peacock. So I thought, that with some peacock feathers, it would be easy to put together some rolags showing the stunning colours of this bird. Not so! The iridescence of the feathers means that the colours can change considerably when seen from different angles and in different types of light.
I have eventually developed this blend of colours and fibres, based on the colours in the feathers in natural sunlight. I used a base of soft, 21 micron merino in shades of bright greens and blue. Then blended it with black baby alpaca and tussah silk in shades of brown and purple. Finally a little Angelina was added, in a similar shade to give a nod to the iridescence of the original feathers.
You will receive just over 100g of rolags in the A Peacocks Tale colourway (sorry you will not get the feathers!). Most of the fibres in this blend will felt, if you do not want them to, hand wash in cool water.