04/06/2020 - Welcome to Fellview Fibres. The shop will be shut for a few days as the order books are full. I am working as quickly as possible through orders - as soon as I can be confident that new orders can be made up within the normal 2 weeks preparation time, I will re-open the shop for new orders.
If you have any questions, custom requests, or would like an update on your order, please email me at carol@fellviewfibres.co.uk
Stay Safe and Happy Spinning!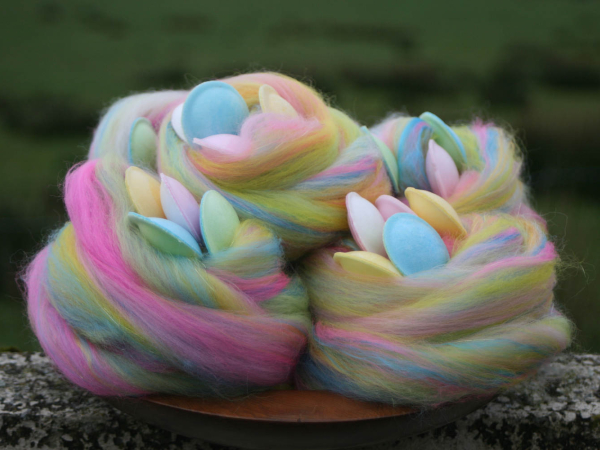 PHAT FIBER April 2017 - Flying Saucer Nests - 100g
Only 1 left in stock
£16.00
The theme of the Phat Fiber Box for April 2017 was Cupcakes and Candy. This gave me a great opportunity to visit some old fashioned sweetie shops to test out sweets for colours and taste ;-)
Eventually I decided to base my colourway on the penny sweets we used to be able to buy in the village shop which were called 'Flying Saucers'.
The flying saucers are made from a type of rice paper, with sherbet in the centre.
For this light, open, hand pulled roving I have used soft, 21 micron merino in shades of yellow, green, blue and pink, blended with mulberry silk and baby llama - with a little sparkle of Angelina. The roving is made by blending the fibres together on my drum carder, and then drafting the fibres from the drum carder using a diz.
This hand pulled roving is light and airy, and will draft effortlessly into a fine yarn.
You will recieve 100g of hand pulled roving nests in the Flying Saucer colourway - without the addition of the Flying saucer sweets shown in the photographs - sorry!