Happy 2020! All fibres (excluding Luxury Blends) are made to order. This means that at present processing time is approximately two weeks, although I will always dispatch as soon as possible. As fibres are made to order, if you like a colourway but would like sparkle added, or silks added or removed etc, then this may be possible. Please email me at carol@fellviewfibres.co.uk to discuss your ideal blend.
If any items indicate that they are out of stock, also get in contact, as I may still be able to make these colours for you.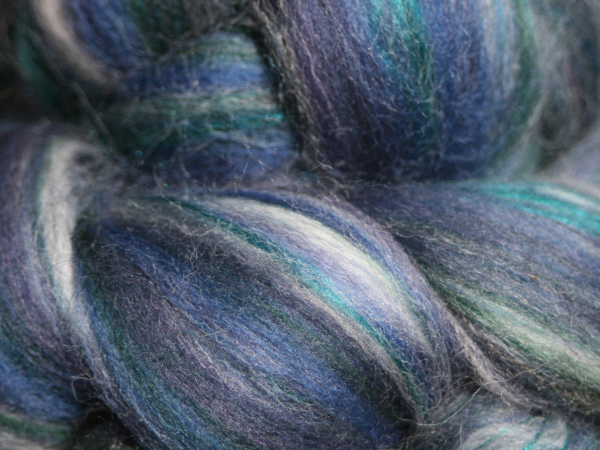 Stormy Seas Luxury Blend - 100g
Only 2 left in stock
£12.50
This luxury blend mirrors the colours of choppy seas on stormy, windy days - of which we seem to have many here, even during the summer!
This blend is made up of soft merino fibres in shades of deep blue greens with the addition of natural grey Shetland fibre, mulberry silk and white cashmere, to give the indications of the white horses on the tips of the breaking waves.
This blend will produce a wonderfully soft, warm yarn thanks to the addition to the decadent cashmere fibre . Any yarn also have a lovely shine, strength and drape, thanks to the addition of the mulberry silk.
Most of the fibres in this blend will felt, if you do not want them to, and wash in cool water.
You will receive 100g of roving in the Storm Seas colourway