September 2019 : Due to volume of orders, expected dispatch time is now approximately 2 weeks. I will try to dispatch orders earlier if possible. A message will be sent as soon as an item has been dispatched.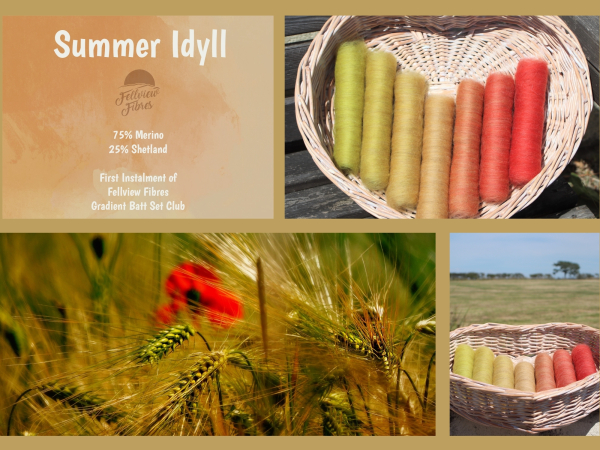 Summer Idyll - 100g
Only 1 left in stock
£16.00
This gradient inspiration photo makes me think of those long, hot summer days during summer holidays past. When it felt like September, and school, were a whole lifetime away.
I would walk through the fields and back lanes, hands brushing the long grass stems topped with seeds. The family dog trotting in front, on our way to the beck (actually the river Derwent). He would stand in the river, impatiently waiting for sticks to be thrown.
After a while of stick throwing I might sit in the field, looking for 4 leafed clovers and wishing that I had a Famous Five picnic basket full of food and 'lashings of ginger beer'. It has been so difficult NOT to call this gradient 'lashings of ginger beer' – but I eventually settled on 'Summer Idyll'
The gradient is made from 21 micron merino in shades of green, yellow and orange. Blended with the merino I have added 25% natural fawn Shetland fibres which give the blend a much more open and fluffy texture.
The Shetland and merino fibres will felt. If you do not wish them to, hand wash in cool water.