04/06/2020 - Welcome to Fellview Fibres. The shop will be shut for a few days as the order books are full. I am working as quickly as possible through orders - as soon as I can be confident that new orders can be made up within the normal 2 weeks preparation time, I will re-open the shop for new orders.
If you have any questions, custom requests, or would like an update on your order, please email me at carol@fellviewfibres.co.uk
Stay Safe and Happy Spinning!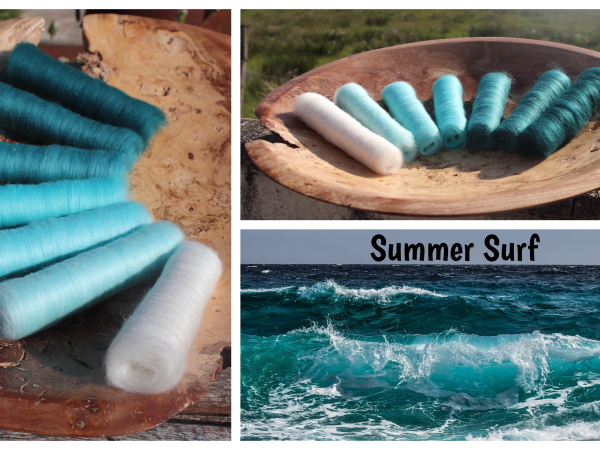 Summer Surf Gradient Batt Set
Only 3 left in stock
£17.00
This gradient is a lucious blend of 75% merino and 25% tussah silk. The blend is so soft with a gorgeous shimmer from the high level of silk in the blend. I have also added a little silver Angelina to represent the droplets of spray from the waves. The blend can be made with or without the Angelina.
I have based the colours on a wave breaking on a beautiful sunlit shore, so the colours transition from the white of the breaking water, through turquoise to a deep rich green/blue shade. I have added this to the TdF collection, as this scene could easily be taken from a beach in the South of France.
The merino in this blend will felt, if you do not wish it to, hand wash in cool water.