08/04/2020 Welcome to Fellview Fibres - despite the restrictions in place in the UK due to the Coronavirus, I am still working on fibres at home, and I can now dispatch parcels 2 or 3 times per week. As soon as the restrictions are relaxed, normal daily dispatches will recommence.
All of the fibres are made to order - which at present takes approximately 1 -2 weeks .
If you have any questions, custom requests, or would like an update on your order, please email me at carol@fellviewfibres.co.uk
Stay stafe, and Happy Spinning!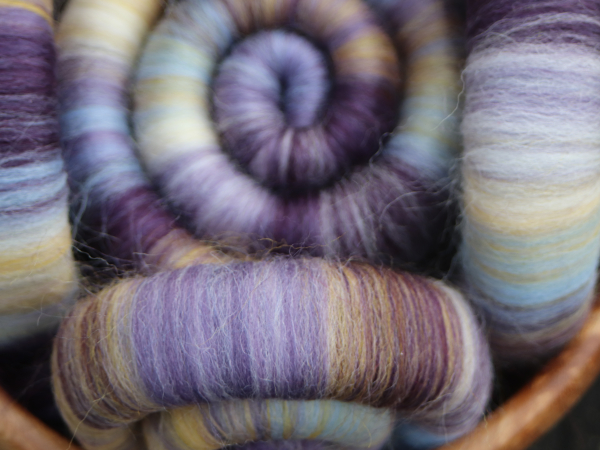 Underwater Stand Off - Rolags - 100g
Only 3 left in stock
£16.00
I saw a wonderful photograph whilst researching for a custom order. The award winning photograph by Ernie Black shows an octopus with its tenticles gently curved around its body, floating facing the camera. With shades of sand, aubergine, white, pale blue and mauve.
The link to the inspiration photograph is here
https://yourshot.nationalgeographic.com/photos/11241484/
I made a set of rolags containing these shades using only Shetland and Corridale fibres. This means that the fibres are not as soft as merino, but they have a crispness and openness that will make them straight forward to spin -excellent for a beginner. You will receive 100g of rolags in the Underwater Stand Off colourway. All of the fibres in this blend will felt. If you do not wish them to, hand wash in cool water.