08/04/2020 Welcome to Fellview Fibres - despite the restrictions in place in the UK due to the Coronavirus, I am still working on fibres at home, and I can now dispatch parcels 2 or 3 times per week. As soon as the restrictions are relaxed, normal daily dispatches will recommence.
All of the fibres are made to order - which at present takes approximately 1 -2 weeks .
If you have any questions, custom requests, or would like an update on your order, please email me at carol@fellviewfibres.co.uk
Stay stafe, and Happy Spinning!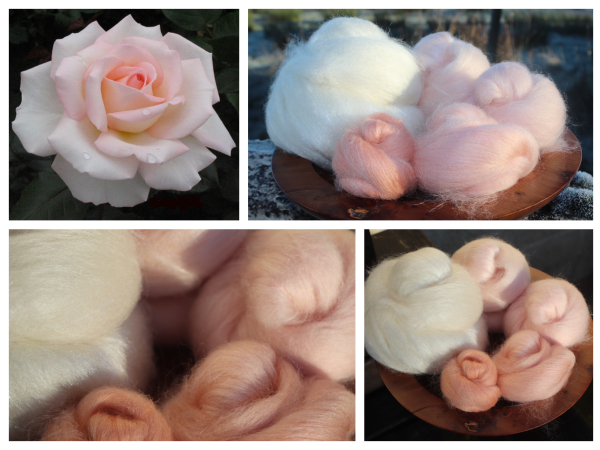 Bloom of Ruth - 130g Fibonacci Gradient Batt set.
Only 4 left in stock
£20.00
I found that there was a rose called the 'Bloom of Ruth' and was blown away by the beauty of that bloom. In memory of a dear friend with that name I decided to make a very special blend. As the rose only has the centre petals coloured pink, I decided to make a new type of gradient with the batts becoming progressively larger as we moved through the colours.
I used the Fibonacci numbers to come up with the sizes for the batts. The batts are 8g, 13g, 21g, 34g and 55g. The colours changing from delicate peach, through pale pink to white. The batts at 33% tussah silk blended with a white base fibre. The fibre used in the photographs is superfine BFL - a sumptiously soft, but silken fibre itself. However, this colourway can be made up using a range of different fibre bases.
You will receive 5 batts which make up the 'Bloom of Ruth' colourway, which together will add up to over 130g of fibre.