04/06/2020 - Welcome to Fellview Fibres. The shop will be shut for a few days as the order books are full. I am working as quickly as possible through orders - as soon as I can be confident that new orders can be made up within the normal 2 weeks preparation time, I will re-open the shop for new orders.
If you have any questions, custom requests, or would like an update on your order, please email me at carol@fellviewfibres.co.uk
Stay Safe and Happy Spinning!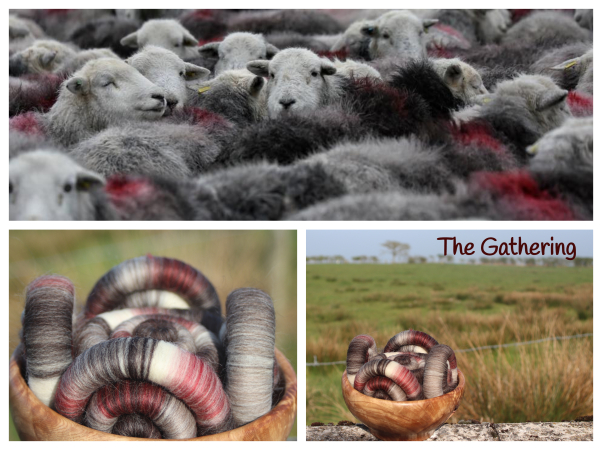 The Gathering Rolags - 100g
Only 2 left in stock
£16.50
I adore Herdwicks, they have beautiful smiling faces and are hardy animals that can live unaided on the fells. Their colours change through life, the lambs normally starting out pitch black, with white tips to their ears, this black fleece then changes to a chestnut brown in their first year. Finally, this changes to grey as the ewes age. These lovely ladies are at least two years old by the colour of their fleece. I loved the way this photograph is basically monochrome with the flashes of red from markings (probably from the tups).
I tried to use naturally coloured fibres as much as possible in this blend. I have used locally sourced Ryeland, oatmeal BFL, New Zealand fibre, Zwartables and Manx Loughtan blended with red merino.
Most of these natural fibres are not as soft as merino, so would not be considered as suitable for next to the skin items. The fibres are more bouncy than merino, so the resulting yarn will have more body - great for a hat or gloves.
You will receive 100g of rolags (between 7-9 rolags) in 'The Gathering' colourway. The fibres in this blend will felt. If you do not wish them to, hand wash in cool water.
With many thanks to Angela Irving who has given permission to use her beautiful photograph of Herdwicks