Welcome to Fellview Fibres. Most orders will be dispatched in approximately 2 weeks. Larger orders may take a little longer. All items are made to order, so if you would like some small changes (like addition of silk or sparkle) please message me. If an item is sold out in the shop, again, please message me, as often I will have the fibres to make more of the colourway.
If you have any questions, custom requests, or would like an update on your order, please email me at carol@fellviewfibres.co.uk
Stay Safe and Happy Spinning!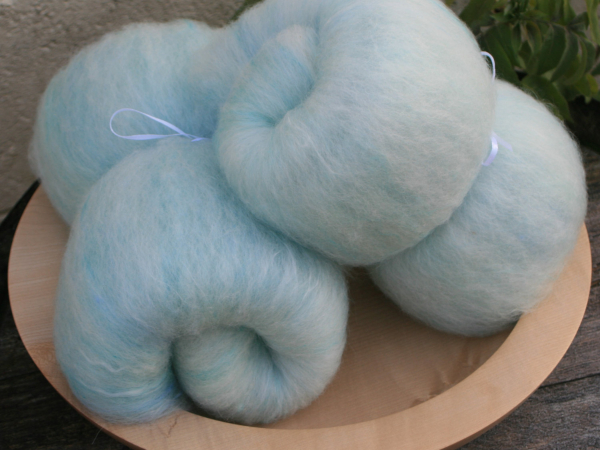 Glacial Waters Batts - 100g
Only 3 left in stock
£16.00
The photographs show two lovely, soft, bouncy batts, that together add up to 100g of fibre.
I used as a base organic falkland fibre which is divinely soft, and has more of a bounce and a longer staple length than merino. To this soft white fibre I added white baby llama, for even more luxurious softness and warmth.
I then added seacell and tussah silk for shine. The resulting batts are light and airy, with a greeny/blue hint, that reminds me of meltwater from a glacier.
These batts can be made with or without the addition of silver Angelina (the batts shown in the photographs have no sparkle in them)
You will recieve 100g (two batts) of fibre in the Glacial Waters colourway. The fibres in this blend will felt.