04/06/2020 - Welcome to Fellview Fibres. The shop will be shut for a few days as the order books are full. I am working as quickly as possible through orders - as soon as I can be confident that new orders can be made up within the normal 2 weeks preparation time, I will re-open the shop for new orders.
If you have any questions, custom requests, or would like an update on your order, please email me at carol@fellviewfibres.co.uk
Stay Safe and Happy Spinning!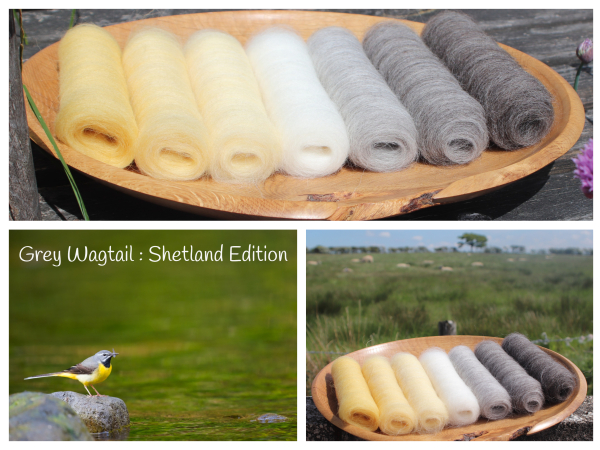 Grey Wagtail - Shetland Edition
The Grey Wagtail is a charming bird, most often found by clear fast running streams in the hills. As all wagtails, they flit around, seemingly moving their tails up and down constantly. The Grey Wagtail is on the Red List for UK birds. This means that their numbers have decreased by at least 50% in the last 20 years. Happily, due to improving water quality, the range that these birds can survive in is increasing.
I first made this colourway in merino. As I have been asked to make up some of my colourways in fibres other than merino, this gradient has now been produced in Shetland fibre. The white and dark grey fibres are naturally coloured.
The Shetalnd batts are always lighter and more airy than the merino batts, which many people find easier to spin.
Shetland fibre will felt. If you do not wish it to, hand wash in cool water.