Welcome to Fellview Fibres. Most orders will be dispatched in approximately 2 weeks. Larger orders may take a little longer. All items are made to order, so if you would like some small changes (like addition of silk or sparkle) please message me. If an item is sold out in the shop, again, please message me, as often I will have the fibres to make more of the colourway.
If you have any questions, custom requests, or would like an update on your order, please email me at carol@fellviewfibres.co.uk
Stay Safe and Happy Spinning!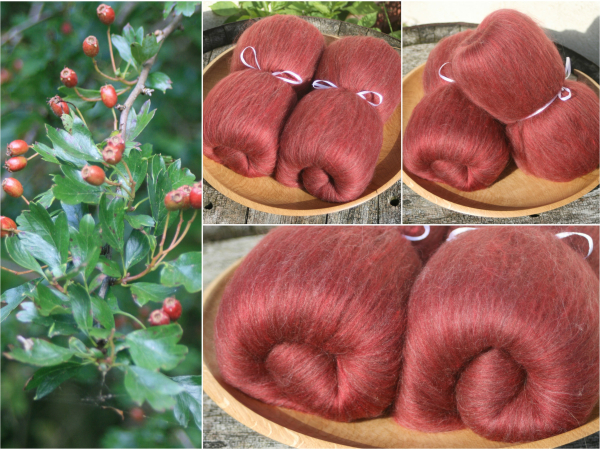 Hawthorne Batts - 100g
Only 4 left in stock
£16.00
Hawthornes are extremely common as hedgerow plants. They brighten up the spring with their copious production of pretty white Mayflowers. In later summer, early autumn, the flowers have turned into hawes (berries) which give the shrub its name. They are a deep ruddy brown, with only a slight shimmer. Birds love these berries as a winter food source.
These batts reflect the colour of these hawes, a rich autumnal red/brown. They are made with a base of light brown baby llama fibres (approx. 50%), blended with the llama are merino and mulberry silk in shades of red, to give the batts a depth of colour. The batts have been carefully blended, however, they have not been blended to the point of homogeneity, they have been left with indications of the separate fibres that produced them.
These batts are extremely soft, and if you are looking for a fibre preparation to make a light, airy, warm yarn in a gentle natural tone, this is just for you!
These fibres will felt, if you do not want them to, please hand wash in cool water.