Welcome to Fellview Fibres. Most orders will be dispatched in approximately 2 weeks. Larger orders may take a little longer. All items are made to order, so if you would like some small changes (like addition of silk or sparkle) please message me. If an item is sold out in the shop, again, please message me, as often I will have the fibres to make more of the colourway.
If you have any questions, custom requests, or would like an update on your order, please email me at carol@fellviewfibres.co.uk
Stay Safe and Happy Spinning!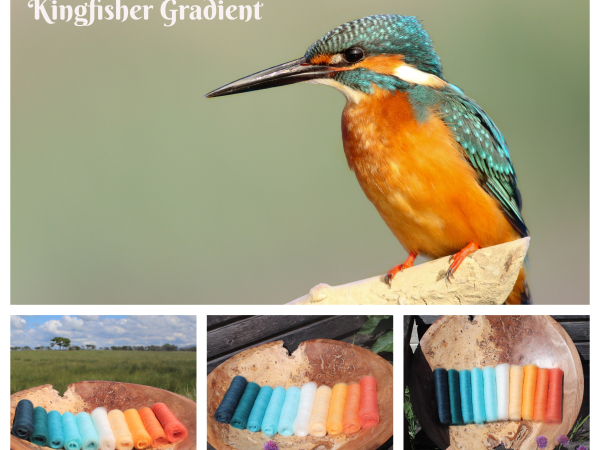 Kingfisher Gradient Batt Set - 150g
Only 2 left in stock
£24.00
I was asked to put together a colourway based on the kingfisher. After looking at lots of photographs of these beautiful birds, I decided that they were chameleon like, their blue plumage changing shade in different light. So, I decided to pick one beautiful inspiration photograph, and stick with that.
The colourway moves from deep greenyblue, through jades to white, and then the yellows and oranges of the brest plumage. In the photographed set, a small amount of trilobal has been added to the blend, to give a shimmer. The colourway can be made without the addition of trilobal.
The merinoin this blend will felt. If you do not wish it to, hand wash in cool water.