Welcome to Fellview Fibres. Most orders will be dispatched in approximately 2 weeks. Larger orders may take a little longer. All items are made to order, so if you would like some small changes (like addition of silk or sparkle) please message me. If an item is sold out in the shop, again, please message me, as often I will have the fibres to make more of the colourway.
If you have any questions, custom requests, or would like an update on your order, please email me at carol@fellviewfibres.co.uk
Stay Safe and Happy Spinning!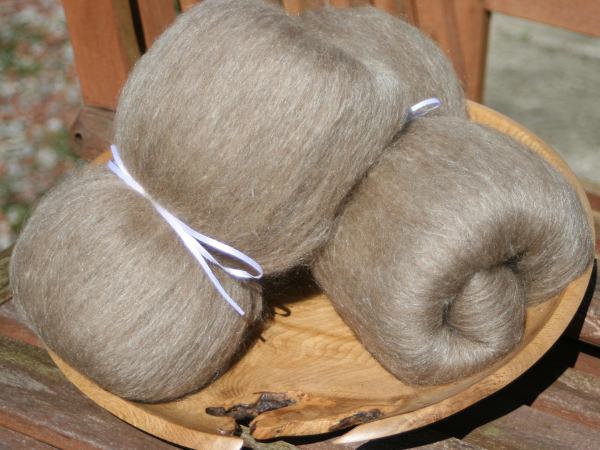 Manx Loaghton / Honey Tussah Silk smooth blended batts - 100g
Only 2 left in stock
£16.00
The Manx Loaghton sheep is a primitive breed that originated on the Isle of Man. It is a striking animal to encounter, as some individuals can have up to six horns! This is a rare native sheep breed of the UK, and almost went extinct in the 1970's. Happily there are now a number of flocks throughout the Isle of Man and the rest of the UK.
I find their fleece is similar to Shetland, although it only comes in one colour (Loaghton - mouse brown). It has a micron range of 27-31, with a relatively long staple length of 6-12cm. This means that the fibre is a straightforward fibre to hand spin.
I blended this beautiful rare breed fribre with unbleached, honey coloured tussah silk, with proportions of 1/3 silk to 2/3 Manx Loaghton. The addition of silk has added a wonderful shine to the blend.
Some people may find that the Manx fibre is a little too course for next to the skin wear. I am happy to wear it, even around my neck, and with the addition of the silk, would be happy to spin the blend into a fine yarn to make into a shawl.
You will receive 2 batts with a total combined weight of 100g.