Welcome to Fellview Fibres. Most orders will be dispatched in approximately 2 weeks. Larger orders may take a little longer. All items are made to order, so if you would like some small changes (like addition of silk or sparkle) please message me. If an item is sold out in the shop, again, please message me, as often I will have the fibres to make more of the colourway.
If you have any questions, custom requests, or would like an update on your order, please email me at carol@fellviewfibres.co.uk
Stay Safe and Happy Spinning!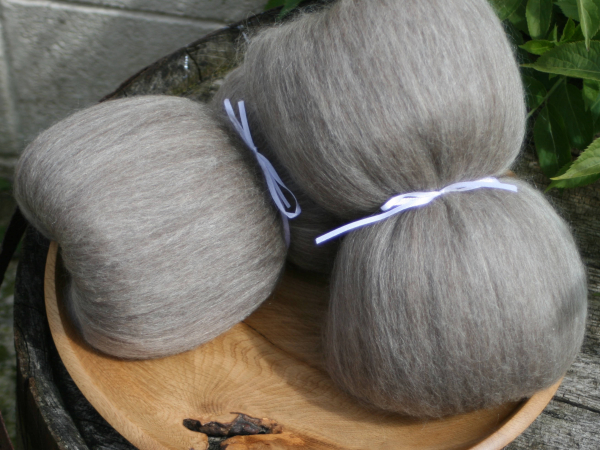 Masham / Baby llama / Honey Tussah Silk Smooth Batts - 135g
Only 3 left in stock
£16.00
Masham sheep are crossbreds that have been produced for over 100 years primarily in the Northern Hills of England. They are named after the small town of Masham near Harrogate in North Yorkshire.
The sheep are normally produced by crossing a Teeswater tup with either a Swaledale or Dalesbred ewe. This is done to produce hardy offspring. In the process, beautiful fleeces are also produced. I was stunned when I had the opportunity to sink my hands into this Masham roving. As a hill breed, I expected it to have a much rougher handle. This is so soft and squooshy!
Masham fibres have a micron range of approx. 33-35, which is in the range of Shetland fibres, however, unlike Shetland fibres, due to the input of Teeswater genes, the staple length is much longer (15-30cm), and the fibres have more lustre.
I decided to try to maintain the natural grey/beige colouring of the Masham. I blended it with light brown baby llama, for extra warmth and even more softness, and honey tussah silk for more lustre and sheen.
The proportions of each fibre is approximately, Masham 60%, Baby llama 20%, Honey Tussah Silk 20%.
The batts have been blended a minimum of 3 times to ensure complete blending. You will recieve 135g of fibre in total from the 2 batts. The fibre in these batts will felt. If you do not wish them to, hand wash in cool water.