September 2019 : Due to volume of orders, expected dispatch time is now approximately 2 weeks. I will try to dispatch orders earlier if possible. A message will be sent as soon as an item has been dispatched.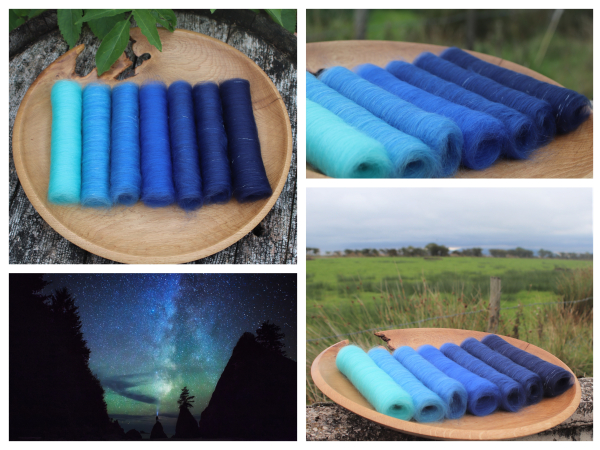 Milky Way Rising - 100g
Only 4 left in stock
£16.00
This gradient batt set was inspired by photographs of the Milky Way in the night sky, in areas of very little light pollution. The Milky Way, our galaxy is thought to hold upto about 400 billion stars which together look spectacular in the night sky.
This blend is made from 75% 21 micron merino in shades of jade and blue, blended with 25% ramie and a sprinkling of silver Angelina.
Ramie is produced from a member of the nettle family. It is a strong and durable fibre with little elasticity. Ramie is also extremely absorbent and breathable. It is resistant to bacteria and mildew. Due to these extremely useful properties ramie is first thought to have been used by the Egyptians between 5000-8000 years ago.
Due to the durability of the ramie fibres, this blend may be suitable for spinning sock yarns, but I think it is still soft enough to use for next to the skin projects such as shawls.
You will receive 7 mini batts, which together add up to just over 100g in the Milky Way Rising colourway. The merino in this blend will felt. If you do not wish it to, hand wash in cool water.