Welcome to Fellview Fibres. Most orders will be dispatched in approximately 2 weeks. Larger orders may take a little longer. All items are made to order, so if you would like some small changes (like addition of silk or sparkle) please message me. If an item is sold out in the shop, again, please message me, as often I will have the fibres to make more of the colourway.
If you have any questions, custom requests, or would like an update on your order, please email me at carol@fellviewfibres.co.uk
Stay Safe and Happy Spinning!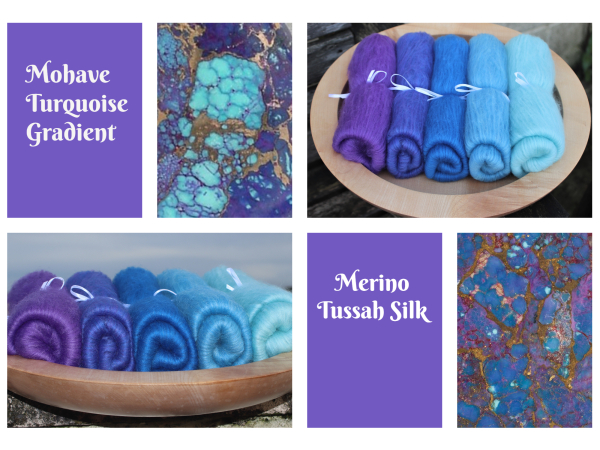 Mohave Turquoise Gradient Batt Set
This mineral inspired colourway is based on a 'composite gemstone' called Mohave Turquoise.
Mojave Turquoise is made using natural turquoise nuggets. The natural chunks of turquoise are combined together (with a bronze matrix) The purple variety has been dyed before the combination. These dyed and natural pieces are then compressed using a hydraulic press – the so called, block stone can then be cut and polished.
This Mohave Turquoise Gradient is made from a 75% merino and 25% tussah silk blend. The silk was added for a little shimmer - so that it can shimmer like the semi precious stone