Welcome to Fellview Fibres. Most orders will be dispatched in approximately 2 weeks. Larger orders may take a little longer. All items are made to order, so if you would like some small changes (like addition of silk or sparkle) please message me. If an item is sold out in the shop, again, please message me, as often I will have the fibres to make more of the colourway.
If you have any questions, custom requests, or would like an update on your order, please email me at carol@fellviewfibres.co.uk
Stay Safe and Happy Spinning!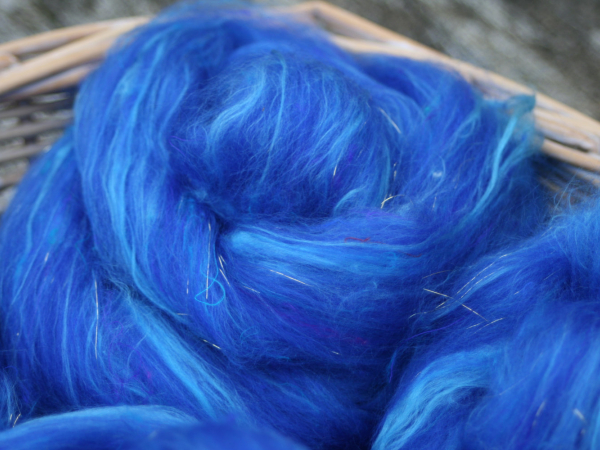 PHAT FIBER August 2016 - Indian Summer Hand pulled roving - 100g
Only 1 left in stock
£16.00
This blend was inspired by a beautiful wedding sari. Stunning blue silk with amazing amounts of golden embroidery.
I wanted to put together a blend which reflected the rich, bright colours of this sari, but also would produce a yarn that was as sumptuous and soft as the real thing.
This hand blended, hand pulled roving is made from 21 micron merino fibres, blended with mulberry silk (approximately 15%) and recycled sari silk (approximately 10%), all in shades of blue, although the sari silk has highlights of tiny turquoise, purple, and pink threads throughout.
The fibres have been blended twice to ensure that the fibres have been distributed evenly, but streaks of silk can still be discerned - if you would like the fibres to be carded three times before being turned into roving please leave a note after ordering.
You will receive 100g of roving nests in 'Indian Summer' colourway. The merino fibres will felt, if you do not wish them to, hand wash in cool water.