08/04/2020 Welcome to Fellview Fibres - despite the restrictions in place in the UK due to the Coronavirus, I am still working on fibres at home, and I can now dispatch parcels 2 or 3 times per week. As soon as the restrictions are relaxed, normal daily dispatches will recommence.
All of the fibres are made to order - which at present takes approximately 1 -2 weeks .
If you have any questions, custom requests, or would like an update on your order, please email me at carol@fellviewfibres.co.uk
Stay stafe, and Happy Spinning!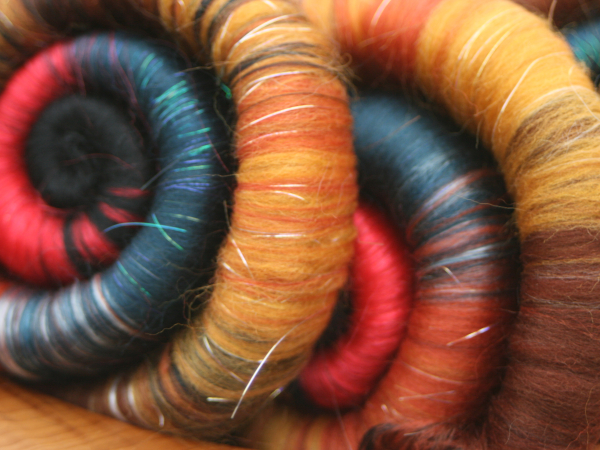 Pheasant Rolags / Punis - 100g
Only 4 left in stock
£16.00
The male pheasant is a sight to behold. His head has a crown of shimmering blues and greens with a scarlet whattle. Add to that the volumous screech that he makes when startled into flight - he can make a poor walker just about jump out of her boots!
These rolags have a base of 21 micron merino which is soft and smooth to the touch, added to this is lashings of scarlet tussah silk, black mulberry silk and white tencel.
Angelina of different hues has been added to give the iridescence seen in the pheasant's colouring.
You will receive 100g of rolags / punis. The majority of these fibres will felt.