Welcome to Fellview Fibres. Most orders will be dispatched in approximately 2 weeks. Larger orders may take a little longer. All items are made to order, so if you would like some small changes (like addition of silk or sparkle) please message me. If an item is sold out in the shop, again, please message me, as often I will have the fibres to make more of the colourway.
If you have any questions, custom requests, or would like an update on your order, please email me at carol@fellviewfibres.co.uk
Stay Safe and Happy Spinning!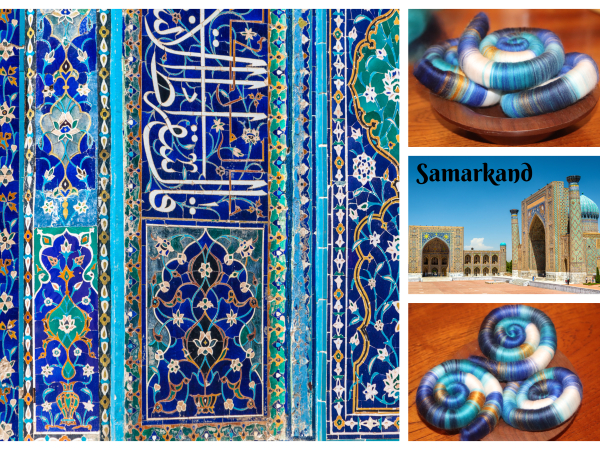 Samarkand Rolags - 100g
Only 3 left in stock
£18.00
These rolags were made as the first installment of the 2020 Rolag Club. The overall theme of the Club this year is the Silk Roads.
The inspiration for these rolags is Samarkand. Samarkand is at a hub of the Silk Roads, with close links to the West, India and China it was the jewel in the crown of Silk Road cities. Samarkand is one of the oldest cities in Central Asia, and at times one of the most important. So important that it was conquered by Alexander the Great, Genghis Khan and Tamerlane. Tamerlane made the city his capital.
The inspiration photographs show Registan Square, which is flanked on 3 sides by Madrasah's. Madrasah is an Arabic term meaning school. These stunning buildings were built just after Tamerlane's time between 1417 and 1660. The oldest was completed by Ulugh Beg, Tamerlane's grandson. Ulugh Beg was a gifted astronomer who made the city a great centre of learning in the region.
The colours of your rolags are based on the ceramic mosaics found on the exterior of the buildings in bright blue and golden tones, almost all of which are geometric in form, following the Islamic rule of not depicting humans or animals in art. The exception being the younger Sher-Dor Madrasah which depicts two tigers, each carrying a Sun on its back – obviously showing influence from other cultures (possibly Zoroastrians)
The rolags are made using