September 2019 : Due to volume of orders, expected dispatch time is now approximately 2 weeks. I will try to dispatch orders earlier if possible. A message will be sent as soon as an item has been dispatched.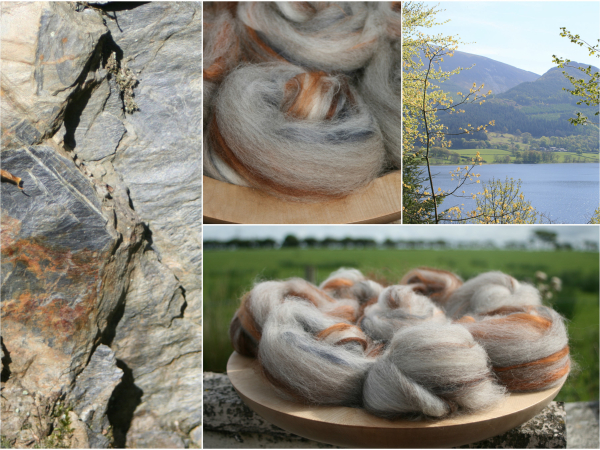 Skiddaw Slate - Handpulled Rovings - 100g
Only 2 left in stock
£16.00
As I was walking along the forest tracks around Beck Wythop, I noticed the cuttings that the Forestry Commission had had to make through the Skiddaw Slate.
Skiddaw Slate I have discovered was laid down almost 500 million years ago in a warm shallow sea, and in the intervening millennia, the soft sediments have been metamorphosed by tectonic forces and volcanic activity - producing this beautiful, shimmering, grey rock, with intrusions of rust brown iron oxide bands and white quartz running through it.
I have taken as the base of this blend some stunningly soft grey Teeswater fibres (approximately 70%) and blended it with extra fine white BFL and tussah silk in shades of rust, rich brown and deep grey. The fibres have then been handpulled into light, airy, soft rovings.
You will receive 100g of hand pulled roving nests in the Skiddaw Slate colourway. Most of these fibres will felt. If you do not wish them to, hand wash in cool water.