04/06/2020 - Welcome to Fellview Fibres. The shop will be shut for a few days as the order books are full. I am working as quickly as possible through orders - as soon as I can be confident that new orders can be made up within the normal 2 weeks preparation time, I will re-open the shop for new orders.
If you have any questions, custom requests, or would like an update on your order, please email me at carol@fellviewfibres.co.uk
Stay Safe and Happy Spinning!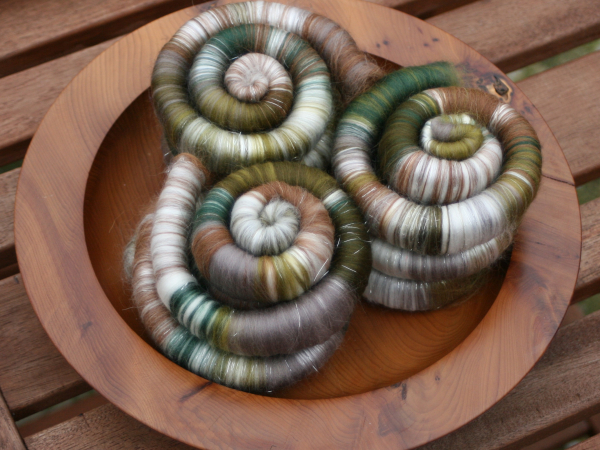 Whinlatter Wonderland Rolags - 100g
Only 4 left in stock
£17.00
Dreaming of crisp winter days, walking along the forest tracks at Whinlatter with my dogs, with snow (or more likely frost) on the fir trees.
These luscious rolags / punis are made of chestnut brown baby alpaca, superfine white merino and cashmere, 21 micron merino in shades of grey and green - with a little silver Angelina for added sparkle.
You will receive just over 100g of luxury rolags in this colourway. A lovely easy way to spin fibres, but in this format the fibres could also be used for felting.