08/04/2020 Welcome to Fellview Fibres - despite the restrictions in place in the UK due to the Coronavirus, I am still working on fibres at home, and I can now dispatch parcels 2 or 3 times per week. As soon as the restrictions are relaxed, normal daily dispatches will recommence.
All of the fibres are made to order - which at present takes approximately 1 -2 weeks .
If you have any questions, custom requests, or would like an update on your order, please email me at carol@fellviewfibres.co.uk
Stay stafe, and Happy Spinning!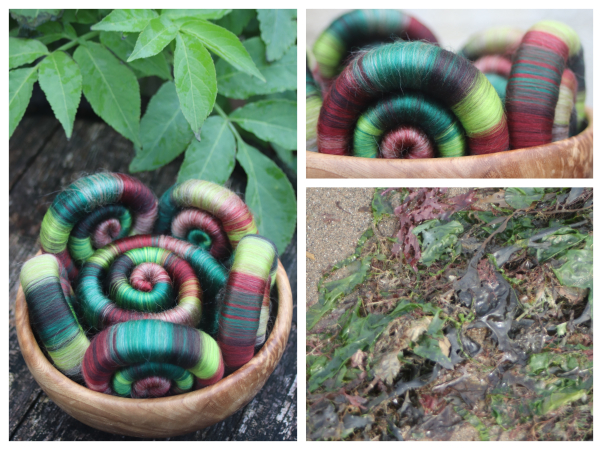 Wild Night Rolags - 100g
Only 3 left in stock
£17.00
I was walking along the beach one morning with the dogs. There were piles of seaweed strewn over the sand. My first reaction was 'It must have been a wild night last night'. The different species of seaweed had been torn up by the surf and dumped on the beach.
I really loved the colours of the weed - deep dark brown with different shades of green along with pops of almost red shades.
To make these rolags, I have blended merino fibre with a similar colour of silk (to get the shine of the seaweed). Each batt has 25% silk (either tussah or mulberry) 75% merino. The Manx Loaghton was also blended in the same ratio with natural honey tussha silk.
This high percentage of silk in the blend will give the blend strength, so the blend will be suitable for use as a sock yarn. However, I plan to spin mine as a 2 ply heavy laceweight yarn to make a shawl. The high silk content will give the blend plenty drape too!
The merino in this blend will felt. If you do not wish it to, hand wash in cool water.