08/04/2020 Welcome to Fellview Fibres - despite the restrictions in place in the UK due to the Coronavirus, I am still working on fibres at home, and I can now dispatch parcels 2 or 3 times per week. As soon as the restrictions are relaxed, normal daily dispatches will recommence.
All of the fibres are made to order - which at present takes approximately 1 -2 weeks .
If you have any questions, custom requests, or would like an update on your order, please email me at carol@fellviewfibres.co.uk
Stay stafe, and Happy Spinning!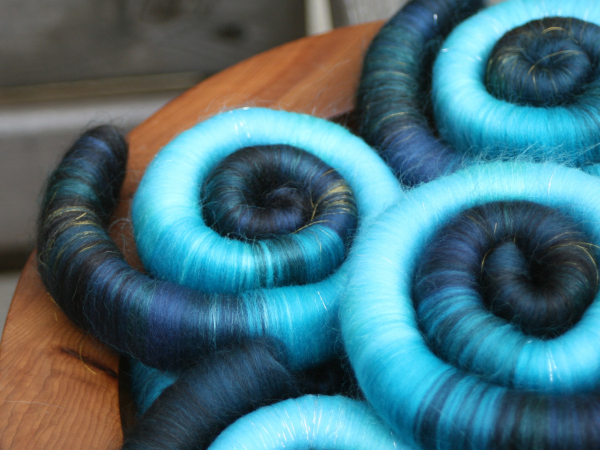 Wormhole Rolags
Only 2 left in stock
£17.00
I took my inspiration for these rolags from the wormhole in Star Trek Deep Space 9. In this series the characters could meet new species from a different quadrant of the Universe without warning, when vessels travelled through this anomaly in space-time.
However improbable the idea of wormholes may be, the idea has a sound basis in Science. The idea was put forward in 1935 by Einstein and Rosen. They were first called Einstein-Rosen bridges. The idea being that they could be a short cut connecting two areas of space time normally a great distance apart. This means that there is the possibility of travelling faster than light – which is time travel…..
These rolags / punis contain
Soft 21 micron merino
Tussah silk
Baby alpaca
Angelina
Trilobal
You will receive 100g of rolags in the wormhole colourway. The merino fibres in this blend will felt. If you do not want them to, hand wash any items in cool water.