04/06/2020 - Welcome to Fellview Fibres. The shop will be shut for a few days as the order books are full. I am working as quickly as possible through orders - as soon as I can be confident that new orders can be made up within the normal 2 weeks preparation time, I will re-open the shop for new orders.
If you have any questions, custom requests, or would like an update on your order, please email me at carol@fellviewfibres.co.uk
Stay Safe and Happy Spinning!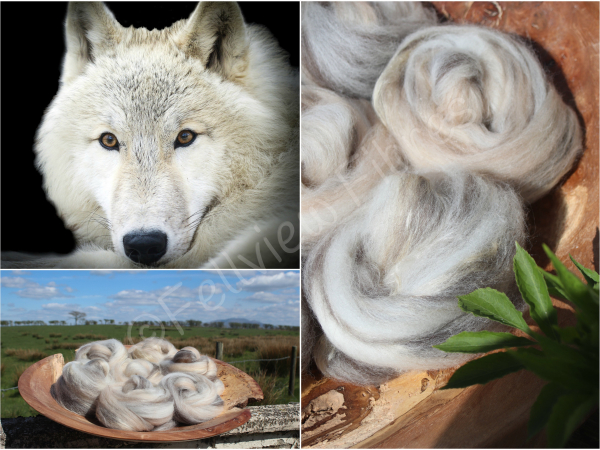 Angua - Handpulled Roving - 100g
This batt is based on the colours of a white wolf. However, the primary inspiration was a character called Angua - a blonde werewolf who works in the City Watch. She has the uncanny ability to extract information from suspects just by smiling with her preternaturally wide smile!
I used to the photograph of the pale wolf to help me identify the correct colours for this handpulled roving. All of the fibres in this bend are naturally coloured and are soooooo soft. The fibres used are;
18.5 micron Falkland fibre - to give plenty loft and bounce to the blend
18.5 micron merino fibre
Baby camel
Yak
Tussah silk
Penduncle silk (which has a wonderful steely colour)
These rovings are so soft and bouncy. They will spin into a gorgeous and luxurious yarn with a loft and halo - great for items such as sweaters, cardigans, hats and mittens. The camel and yak will add warmth and a slight halo, the silks will add a little strength and shimmer. A truely luxurious and 'squidge-worthy' blend.
All of the fibres except the silks will felt. If you do not wish them to, hand wash in cool water.