September 2019 : Due to volume of orders, expected dispatch time is now approximately 2 weeks. I will try to dispatch orders earlier if possible. A message will be sent as soon as an item has been dispatched.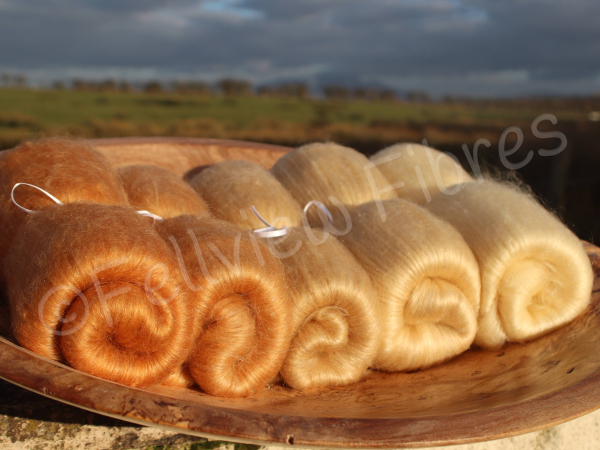 Cafe au Lait Gradient Batt Set - 150g
Only 2 left in stock
£25.00
A good coffee drunk in good company is a true luxury.
These batts made in the Cafe au Lait colourway reflect this luxury. The fibres used in this colourway are 21 micron merino, tussah silk and two shades of eri silk - red eri and yellow eri - some truely luxurious fibres!
Each batt is carefully blended three times through a drum carder, to ensure that the silks and merino are evenly blended throughout.
Each 150g set contains 50g of silk (30g eri silk and 20g tussah silk). This high ratio of silk to merino gives the batts a beautiful shine. When spun up, the yarn produced will also have a silken shine, and will benefit from silk's beautiful drape.
The whole set will be presented in a windowed box to keep the batts as light and fluffy as possible.
The merino in this blend will felt. If you do not wish it to felt, hand wash items in cool water.
PLEASE NOTE THAT ALL PHOTOGRAPHS SHOW FIBRE WITHOUT SPARKLE (ANGELINA) ADDED