Welcome to Fellview Fibres! All of the fibres are made to order - which at present takes approximately 2 weeks . If you see a colourway that you like, but would like some changes - added sparkle or silk, or changes in some of the colours, please contact me at carol@fellviewfibres.com and I will do my best to help you.
If you need more of a colourway than is listed, again, contact me, as I may have sufficient materials to make the quanity that you need.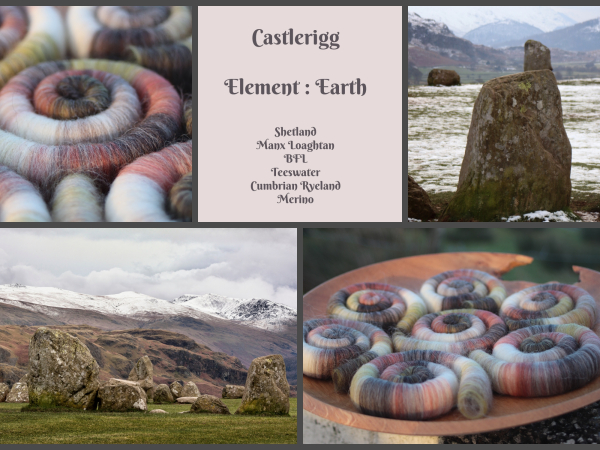 Castlerigg Rolags - 100g
Only 4 left in stock
£17.00
These rolags were designed for the 2019 Rolag Club. The theme for the year is 'The 4 Elements'. This colourway is inspired by 'Earth'
I chose the Neolithic stone circle at Castlerigg near Keswick as the basis for these Earth inspired rolags. I chose it because to me, this embodies all of my ideas about what the element Earth can imply. The stone circle was constructed in the Neolithic Age, which means 'new stone age', approximately 3000BC – a time before metal tools.
Obviously, the stones themselves are made of the Earth, and are surrounded by magnificent fells rising out of the Earth. Finally, as my visit on the morning of January 1st 2000 clearly demonstrated to me, some of the stones are aligned to the sunrise which rises through the jaws of the Thirlmere valley – so showing the Earth's relationship with the rest of the Solar System.
The rolags are made from mainly naturally coloured fibres, enhanced in places with a littled coloured merino. The rolags are made from Shetland, Manx Loughtan, local Cumbrian Ryeland, Teeswater, BFL and merino. All of these fibres will felt. If you do not wish them to, hand wash in cool water.