Welcome to Fellview Fibres. Most orders will be dispatched in approximately 2 weeks. Larger orders may take a little longer. All items are made to order, so if you would like some small changes (like addition of silk or sparkle) please message me. If an item is sold out in the shop, again, please message me, as often I will have the fibres to make more of the colourway.
If you have any questions, custom requests, or would like an update on your order, please email me at carol@fellviewfibres.co.uk
Stay Safe and Happy Spinning!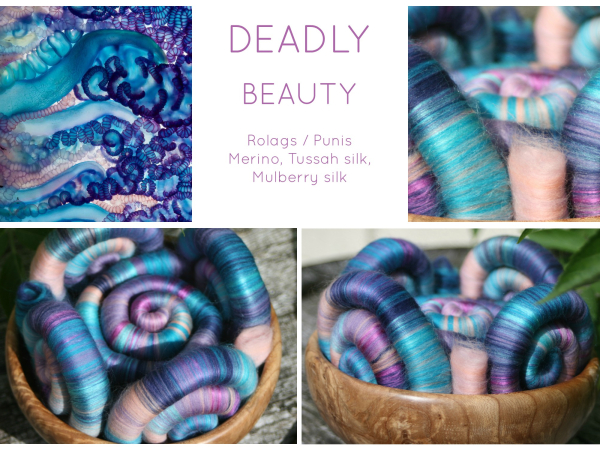 Deadly Beauty Rolags / Punis - 100g
Only 4 left in stock
£17.50
The Portuguese Man of War is a strange creature, that is actually a colony of individuals called polyps. The Man 'O War has a gas filled bladder, that allows it to be transported around the oceans by currents and winds.
The tentacles beneath the bladder are between 10-30m long, trailing along in the water. These tentacles are designed to paralyse small fish and other prey. Sadly, they are also responsible for tens of thousands of stings on humans in Australian waters alone each year.
However, when studied closely, these venomous tentacles look beautiful (see the inspiration photograph).
I took 21 micron merino in shades of pink, blue and mauve and blended them with mulberry silk and tussah silk in shades of turquoise and purple.
These rolags will spin up into a smooth yarn with shimmer and drape. The merino in the blend will felt. If you do not wish the fibres to felt, hand wash in cool water.
You will receive 100g of rolags in the Deadly Beauty colourway.