Happy 2020! All fibres (excluding Luxury Blends) are made to order. This means that at present processing time is approximately two weeks, although I will always dispatch as soon as possible. As fibres are made to order, if you like a colourway but would like sparkle added, or silks added or removed etc, then this may be possible. Please email me at carol@fellviewfibres.co.uk to discuss your ideal blend.
If any items indicate that they are out of stock, also get in contact, as I may still be able to make these colours for you.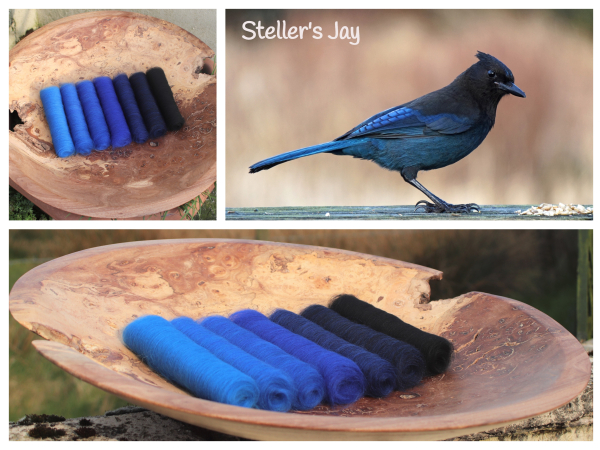 Steller's Jay Gradient Batt Set
Only 2 left in stock
£16.00
I stumbled upon the great character that is the Steller's Jay when discussing the impact of hawks on feeding birds in the garden. When someone mentioned not seeing their Steller's Jays for a while, I had to look them up. It turns out that they are a beautiful flying gradient!
They are also, like the corvids, extremely intellegent birds - as shown here
https://www.youtube.com/watch?v=-_lEBQtW46o
To make this gradient I chose bold bright shades of blue and black in Corridale fibres. I then carefully blended the shades together to make a gradient that moves from electric blue through royal blue to black. The Corridale fibres are not quite a soft as merino fibres, but the stple length is longer and the fibres are less slippery, so more straightforward to spin for new spinners.
The Corridale fibres will felt, if you do not wish them to, hand wash in cool water.
You will receive just over 100g of fibre made from seven mini batts.