Welcome to Fellview Fibres. Most orders will be dispatched in approximately 2 weeks. Larger orders may take a little longer. All items are made to order, so if you would like some small changes (like addition of silk or sparkle) please message me. If an item is sold out in the shop, again, please message me, as often I will have the fibres to make more of the colourway.
If you have any questions, custom requests, or would like an update on your order, please email me at carol@fellviewfibres.co.uk
Stay Safe and Happy Spinning!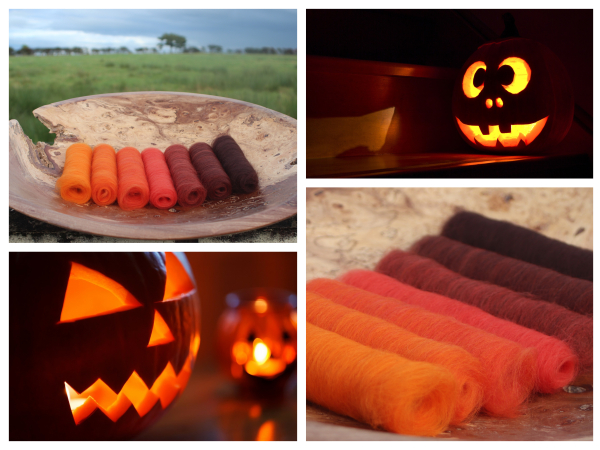 Spook Scarer Gradient Batt Set - 100g
Only 4 left in stock
£16.00
For centuries Celtic cultures have carved lamps to ward off evil spirits on All Hallow's Eve. Now pumpkins are used, but in the recent past turnip lanterns were carved out. I did this as a child - and carving out a turnip is hard work! Strained wrists and numb palms were our reward as we ground out the insides using a spoon.
This fun, bright blend is made from Corridale fibre. Not as soft as merino, but suitable for hats, gloves and socks, if not for anything next to the skin around the neck. The batts will be easy to spin, as the Corridale fibres are light and open, so easier to draft.
This blend can be made with or without sparkles. The gradients shown in the photographs do not have sparkles added.
The fibres in this blend will felt, if you do not wish them to, hand wash in cool water.