04/06/2020 - Welcome to Fellview Fibres. The shop will be shut for a few days as the order books are full. I am working as quickly as possible through orders - as soon as I can be confident that new orders can be made up within the normal 2 weeks preparation time, I will re-open the shop for new orders.
If you have any questions, custom requests, or would like an update on your order, please email me at carol@fellviewfibres.co.uk
Stay Safe and Happy Spinning!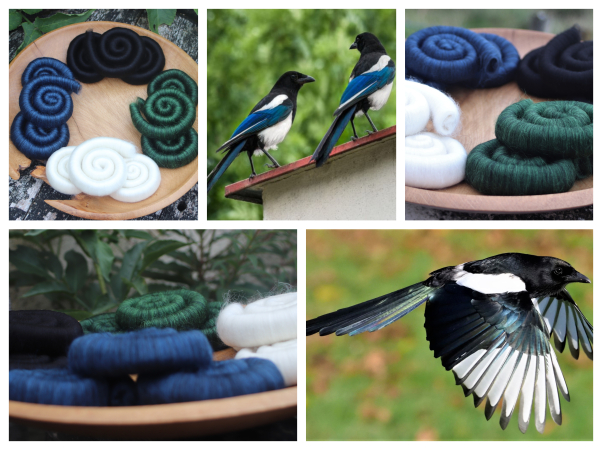 Two for Joy - Rolag Set 110g
Only 3 left in stock
£18.00
A friend wants to make a Magpie inspired shawl, could I put together a colourway for it. I thought hard about how to make up this colourway. I decided on four different coloured rolags (instead of muticoloured rolags) to give more options for spinning a magpie yarn.
Options using this rolag set include
1. Spinning each colour up separately, and each separate yarn can be used for stranded work to make the Magpie Shawl
2. Each colour could be a different ply in a 4 ply yarn
3. The rolags could be pulled apart into small chunks, and then spun up randomly to make a multi-coloured yarn
These rolags are made from 2/3 soft, 21 micron merino carefully blended with 1/3 tussah silk. The silks are blended with the merino multiple times on a drum carder, to make sure that the silk fibres are evenly blended with the merino.
The high percentage of tussah silk in this blend will give the resulting yarn a lovey sheen, and drape. If you wish your Magpie fibres to be even shinier, Angelina can be added to each blend.
You will recieve just over 25g of each coloured blend totalling approximately 110g