Welcome to Fellview Fibres. Most orders will be dispatched in approximately 2 weeks. Larger orders may take a little longer. All items are made to order, so if you would like some small changes (like addition of silk or sparkle) please message me. If an item is sold out in the shop, again, please message me, as often I will have the fibres to make more of the colourway.
If you have any questions, custom requests, or would like an update on your order, please email me at carol@fellviewfibres.co.uk
Stay Safe and Happy Spinning!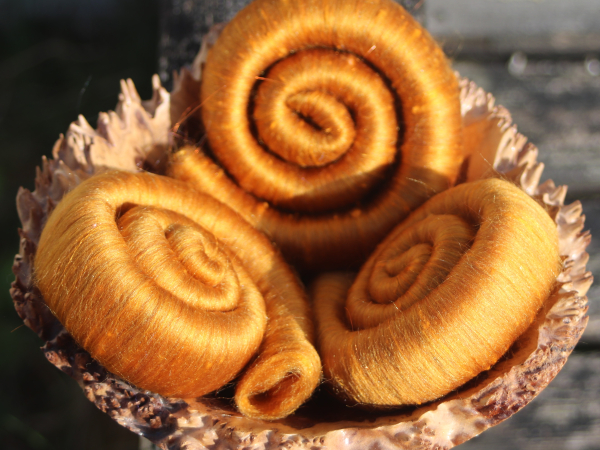 Golden Highlights Rolags
Only 2 left in stock
£9.50
These rolags were designed as an addition to the Mohave Turquoise gradient batt set. They represent the bronze gold metallic matrix that holds the components of the mohave turquoise stone together.
These unusual rolags are made from 50% merino, 30% tussah silk, 20% recycled sari silk and a little bronze coloured trilobal.
This means that the blend will form a silghtly textured, but still shimmery and soft yarn.
These rolags could be used to form their own yarn, or they could be used in conjunction with the Mohave Turquoise gradient to make a fun and unusual gradient , fractal or art yarn. Your imagination is the the only limit.
As these rolags were disgned to be used with another colourway, they can be purchased in packs of either 50g or 100g