Welcome to Fellview Fibres. Most orders will be dispatched in approximately 2 weeks. Larger orders may take a little longer. All items are made to order, so if you would like some small changes (like addition of silk or sparkle) please message me. If an item is sold out in the shop, again, please message me, as often I will have the fibres to make more of the colourway.
If you have any questions, custom requests, or would like an update on your order, please email me at carol@fellviewfibres.co.uk
Stay Safe and Happy Spinning!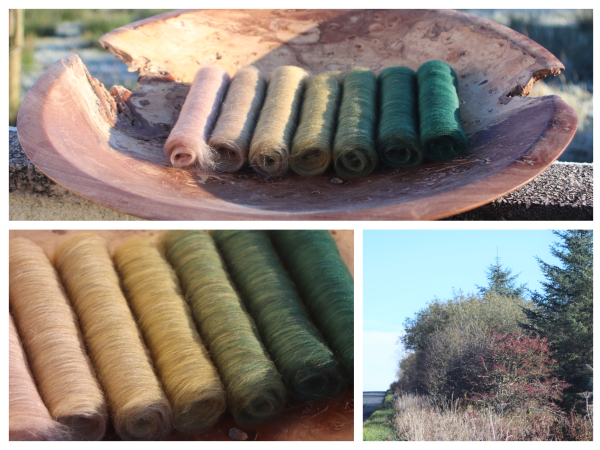 Year's End Gradient Batt Set - 100g
Only 2 left in stock
£17.50
I normally travel the three miles to the post office at least once most days. It is a lovely drive, with the lakeland fells to the left hand side, the Solway Firth and the Scottish hills to my right, and on a good day, the Isle of Man straight ahead. Part of my journey passes the old NATO ammunition depot, which I am certain must be an absolute haven for wildlife. It has been closed to the public and development for the whole of my lifetime. I enjoy watching the changes in the woodlands that have been allowed to grow there.
This gradient shows the colours found on the edges of the 'Dump' during a sunny November day. The gradient starts with the light, golden colour of the long grasses, moving into the the khaki shades of the broad leafed tree and moving onto the deep, rich green of the pine.
The batts are a careful blend of 33% tussah silk and 66% 21 micron merino. The resulting yarn will soft, warm and will have a lovely shimmer and shine - and will also have a great drape - fantastic for shawls. The inclusion of such a high percentage of silk will also make this blend tough enough to be used for socks.